Snake is not that important in the series, though he does play a good role in the Movie. He is acted by Julian Petruzzelli. His best friend is Otacon, and his nemesis is Liquid.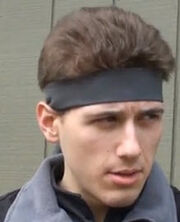 Snake does not play that big of a role in the series. He is forced frequently to go and watch Anime with his friend Otacon.
Snake does play a good role in the Movie, though. In ACT II Part 4 he finds Otacon, who had been just let go by his nemesis, Liquid's capture. He then goes to the old abandoned rail road to fight Liquid, and he wins.
Ad blocker interference detected!
Wikia is a free-to-use site that makes money from advertising. We have a modified experience for viewers using ad blockers

Wikia is not accessible if you've made further modifications. Remove the custom ad blocker rule(s) and the page will load as expected.